Adobe Audition is a very powerful, premium DAW (Digital Audio Workstation) created by Adobe. It offers a lot of customization options, multitrack editing and powerful tools. Audition is widely used for audio recording and editing and is included in Adobe Creative Cloud package. Adobe's premium DAW is a great value for money option for most content creators available through a monthly subscription.
I have been using Adobe Audition for more than two years at this point. There are a lot of things that I love about the software and a few things I don't. In this article, I will review Adobe Audition and compare it to other popular DAW options.
Adobe Audition is great for Youtube and video editing
When I first started working with Adobe Audition, it wasn't because I knew how good it is. I chose it because Adobe Creative Cloud includes Adobe Audition along with other useful programs.
Back then, I was just starting my Youtube channel dedicated to story narrations, and Adobe Creative Cloud looked like an amazing choice considering it included every tool I ever needed and more.
It packs Photoshop, Premiere Pro, After Effect, Lightroom, Audition, and many more powerful programs.
If you are into Youtube or video production and you need software for both audio and video editing, Adobe Creative Cloud suite is probably the best option to choose as it packs some of the best software for a single subscription plan.
In addition, if you have experience with other Adobe software then using Audition should become easier as all of Adobe's programs have similar layouts and they have great compatibility with one another.
Audition has multitrack editor
Adobe Audition has a multitrack editor which enables you to use non-destructive editing.
You will be able to stack effects and modulate them without undoing any effects that you have applied afters.
Also, with multitrack editor, you can record using multiple microphones at once. This is especially useful if you are doing a podcast and want to record using separate microphones.
Multitrack editor could be taken for granted with paid DAWs, but a free Audacity software doesn't have it.
Audition includes powerful tools for audio editing
Adobe audition has a great inbuilt noise reduction tool. For most voice over artists that are starting out at their home environment noise reduction is super important and Audition fits their needs.
I also love how Audition is so intuitive to use. It has fades that are simple to work with by simply dragging. Volume is also adjustable without going to the menus and effects.
You can even access keyframes without having to click an extra button. Spectrogram is always visible simultaneously with waveform and keyboard customization is super useful.
All these little things add up, making Adobe Audition easy to learn, super intuitive, and fun to use. When trying other DAWs, I often find myself struggling when I don't see some of the features Audition has.
Adobe Audition is Synchronised to Premiere Pro
One of my favorite features in Adobe Audition and Premiere Pro is synchronization between the two programs.
It makes my life so much easier not having to edit my audio in Premiere Pro when I am editing videos.
Using Premiere Pro you have an option to edit audio in Adobe Audition. This opens selected audio tracks from Premiere Pro in Audition. Then any changes you make in Audition will apply to Premiere Pro audio tracks once you click save.
This feature alone is why I love Adobe Audition and it has saved me a ton of time and hassle; I absolutely love it.
Audition offers great customization options
Adobe Audition as most Adobe programs is customizable. This is nice because you will be able to adjust the size of various sections in the software. For example, I like to see as much of an audio track as possible. Therefore, I customized my audio track area to be as large as possible and it helps me to see more of what I am working with.
Besides adjusting the size of certain sections in Audition you can also show or hide various sections. Overall, it helps you to set up the software the most optimal for your usage and needs.
There are plenty of tutorials for Adobe Audition
Adobe Audition is one of the more popular DAWs, and you will find lots of tutorials on Youtube on how to use it. Also, you could get a class on Udemy or Lynda or any other learning platform. There are plenty of courses to choose from.
This couldn't be said about a more pricy one-off purchase DAWs.
Is Adobe Audition good for music production?
Adobe Audition is not dedicated to music production and it doesn't have some important tools such as digital instruments or samples. Nevertheless, Adobe Audition has a multitrack editor and it could be used for music production.
It is probably not the most optimal solution, but it is not bad either. And if you are juggling between voice-over and music Adobe Audition could work out pretty well.
Adobe Audition has some great features such as MIDI support, 32-bit floating and virtual instruments support. On the other hand, Audition isn't optimized for creating music using samples, while other popular programs for music creation are very well suited for that.
Adobe Audition is not considered an industry standard
Adobe Audition is not an industry standard in audio engineering. Avid's Pro Tools are.
If you are a regular consumer this probably won't matter and besides Adobe Audition is quite popular anyway.
But if you are planning to work professionally in the industry, if not now maybe in the the future, then Pro Tools could be a better option.
But I believe I am addressing only a small audience here. For most of the people it won't matter.
Audition is not too pricy when bought with Creative Cloud
Adobe Audition is available through a subscription plan for $31.49 per month at the moment. Or you can get it for $20.99 per month if you choose a 1-year subscription option.
Honestly, if I had to get it for this price, I wouldn't spend my money on it. That is one thing I don't like about Adobe Audition; it offers no one-off purchase options.
However, as I mentioned there is Adobe Creative cloud option available for $79.49 per month or $52.99 per month with a 1-year subscription plan.
If not for the Creative Cloud option I wouldn't subscribe to Adobe Audition and it honestly feels as if Adobe is trying to make you get the Creative Cloud deal. Just getting three programs from Adobe already costs more than the whole Creative Cloud package.
Also, if you are a student you can make use of a student discount and get Creative Cloud for $19.99 per month, which is a bargain.
Now, let's compare it to other popular audio editing softwares.
PRO TOOLS ESSENTIAL

I love that Pro Tools offers a one-off buy option. It seems like a lot to pay $599, but if you are planning to use it for years to come, it will save you a ton of money.
For students, Pro Tools will cost $8.25 per month with a 1-year subscription and $299 when choosing a one-off option.
REAPER
Available at $60 one-off cost Reaper is probably the best option in terms of single purchase value. If you don't plan to use other Adobe software besides Audition, I would rather get Reaper.
LOGIC PRO X
Logic Pro X from Apple sells for a $200 one-off purchase. It is dedicated more towards music creators but might work well for voice over audio editing as well.
ABLETON LIVE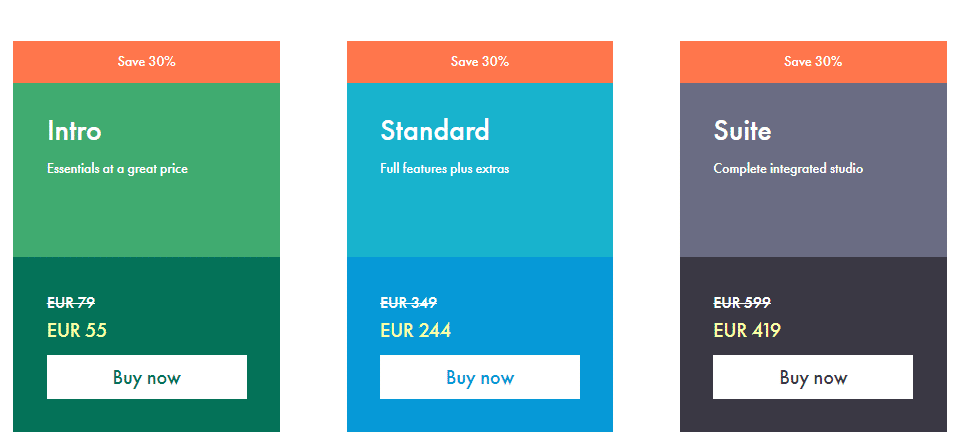 Ableton Live sells for EUR 55 ($60) one-off payment for an intro package, which will include everything you need for voice over. Just like a Reaper, if you don't plan on using other Adobe software, this is a great option.
AUDACITY
Audacity is free and is suitable for voice over artists that are starting. It is probably the best option at the beginning, however, eventually, you will want to upgrade later.
NUENDO
EUR 1001,99 ($1090) one-off purchase
CUBASE
Cubase Elements is available for a one-off payment of EUR 100 ($109). That is the most basic option, Pro version available for EUR 582 ($632) and Artist version for EUR 332 ($361).
Conclusion
Getting Adobe Audition as a standalone program is probably not the most optimal choice unless you are planning to use it only for a few projects and don't want to invest a large amount of money immediately.
Otherwise, it saddens me that Adobe doesn't offer a one-off option. Nevertheless, getting Adobe Audition in Creative Cloud package is most likely the best deal for most content creators, especially Youtubers.
Audition suits best for audio recording, its primary function isn't music creation, but besides lacking a few useful features, Adobe Audition has all the necessary tools for music.
For me, synchronization with Premiere Pro, customization, powerful tools, multitrack editor, and huge community makes Adobe Audition one of the best options for audio editing.