Dynamic microphones are perfect for recording at home, podcasts, video games, on-stage performances and streaming.
Since the best microphone will largely depend on your specific needs, there is no single dynamic microphone that will be equally good for everyone. Therefore I have chosen the five best cheap dynamic microphones in different categories.
5 best cheap dynamic microphones:
Further into this article, we will examine why these microphones were chosen the best in each category.
THE BEST USB DYNAMIC MICROPHONE
USB and XLR connection
Cheap
Upgradeability
Easy to use
Audio Technica ATR 2100x is a clear winner in this category. USB microphones generally offer a lower price and easier setting up in exchange for a noticeably lower sound quality than XLR microphones and no upgrade options.
Audio Technica ATR 2100x, however, is no ordinary USB microphone, as in addition to its USB connection, it contains an XLR output.
Therefore you are getting all the benefits of using a USB microphone and the ability to plug in and record without spending money on extra gear. Yet, once you want an upgrade, you can throw in some cash, get an audio interface and use it as an excellent XLR microphone.
You might find it hard to order the microphone in some countries; A good alternative could be ATR 2100x's sibling from the same company – AT 2005.
For more good USB dynamic microphones read this article.
THE CHEAPEST VIABLE DYNAMIC MICROPHONE
Extremely cheap
On/off switch
Decent sensitivity
AKG Pro Audio P3S is the cheapest dynamic microphone that uses an XLR connection selling at $59 or £28 at the moment. It also comes from AKG, a brand name you are probably familiar with and can trust in the audio industry.
Despite its low price AKG P3S is a decent cardioid polar pattern microphone and has a wide frequency response range of 40Hz – 20,000Hz. A switch on/off feature is also nice. The microphone is handheld and was primarily made for on-stage use, but that doesn't mean it's limited to stage use only. You can use it in the home environment just as well.
The -52dB sensitivity is average, but it might suffice even for pre-amps built-in into the budget interface.
The AKG P3S has boosted higher-end frequencies and will provide a crisp, articulate sound. Also, the low-end frequencies are faded, hence the microphone will not offer a particularly warm tone, but it has good clarity.
THE BEST CHEAP DYNAMIC BROADCAST MICROPHONE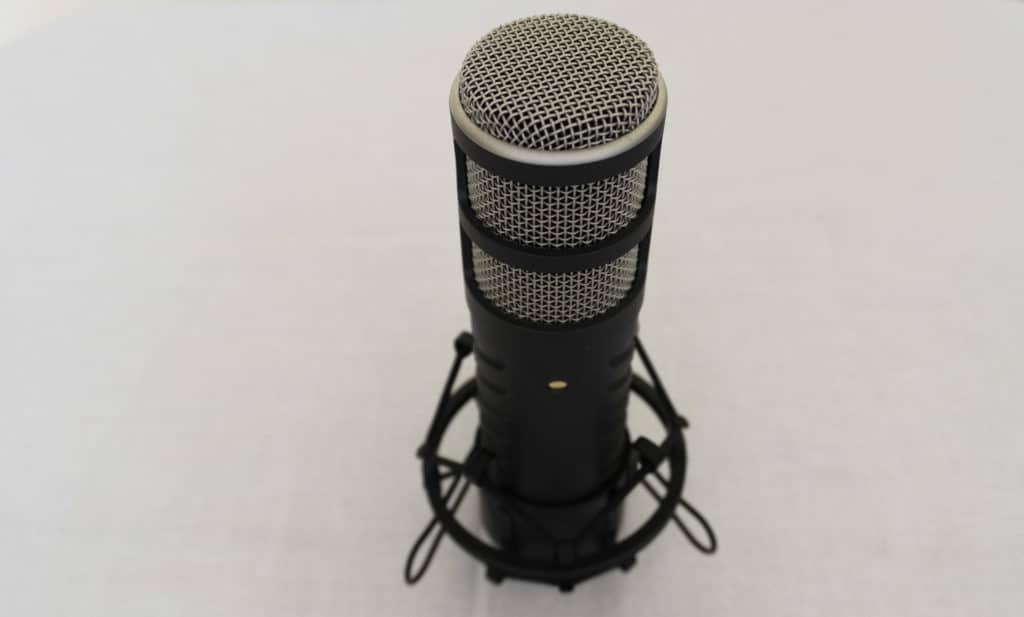 Warm tone
Good build
Built-in windshield
Good noise cancelation
Cheap among broadcast microphones
Low sensitivity
You can read more about Rode Procaster in this review
Rode Procaster is probably the best cheap broadcast microphone with Electro Voice RE320 coming close behind.
Rode Procaster at the moment sells for $229 on USA Amazon, however, as with all Rode products it is cheaper outside USA and you can get the mic for around £140 in UK Amazon.
Rode Procaster is a cardioid polar pattern microphone with a frequency response range of 75Hz-18kHz, which is sufficient for most users. The microphone is on the heavier side weighing 745g and has a sturdy, all-metal build. It feels as if it could withstand a tornado.
The microphone doesn't have any buttons/switches to roll off or boost frequencies. However, it has an in-built windscreen and shock resistance, which are much more important features to me.
Hence you can use the microphone without a pop filter, and due to shock resistance, it could be used as a handheld microphone, although the shape of it would make it look unconventional. Most importantly, it blocks a lot of vibrations that might be coming through your microphone stand.
The microphone enhances your low-end frequencies and very high-end frequencies. It sounds warm but retains clarity. It is a well-balanced microphone for your vocals.
Due to how pleasant and warm it sounds, very often Procaster is chosen as a podcast microphone. However, Rode Procaster blocks a lot of the background noise, making it a very good option for streamers and YouTubers who use the keyboard when recording.
The biggest downside of the microphone is its sensitivity which is 1.6mV/Pa (-56dB). Rode Procaster will require a dedicated pre-amp, an interface with a strong built-in pre-amp, or an interface and fethead/cloudlifter combination.
Popular cheap interfaces might not provide enough gain for comfortable use.
THE BEST CHEAP ON-STAGE DYNAMIC MICROPHONE
Good build
Supercardioid pattern (Great noise cancelation)
Cheap
Good clarity
Decent sensitivity
AKG D5 is another great affordable handheld microphone from AKG which currently sells for around $90. It has a wide 70Hz – 20,000Hz frequency response and is about average in terms of sensitivity 2.6 mV/Pa (-52dB).
However, the microphone has a solid, metal build which is nice, since I m recommending it as an on-stage microphone. It should easily withstand tossing in the bags and occasional drops.
The microphone has a significant roll-off at the low-end frequencies and a boost in very high frequencies which is preferable for singing.
One of the main reasons why I recommend it as an on-stage microphone is the supercardioid polar pattern. AKG D5 does a great job of rejecting background noise which is essential for an on-stage microphone.
At the same time, good background noise rejection makes it a great streaming/gaming microphone since it does help with reducing the noise coming from your keyboard, computer fans, or outside.
THE OVERALL BEST CHEAP DYNAMIC MICROPHONE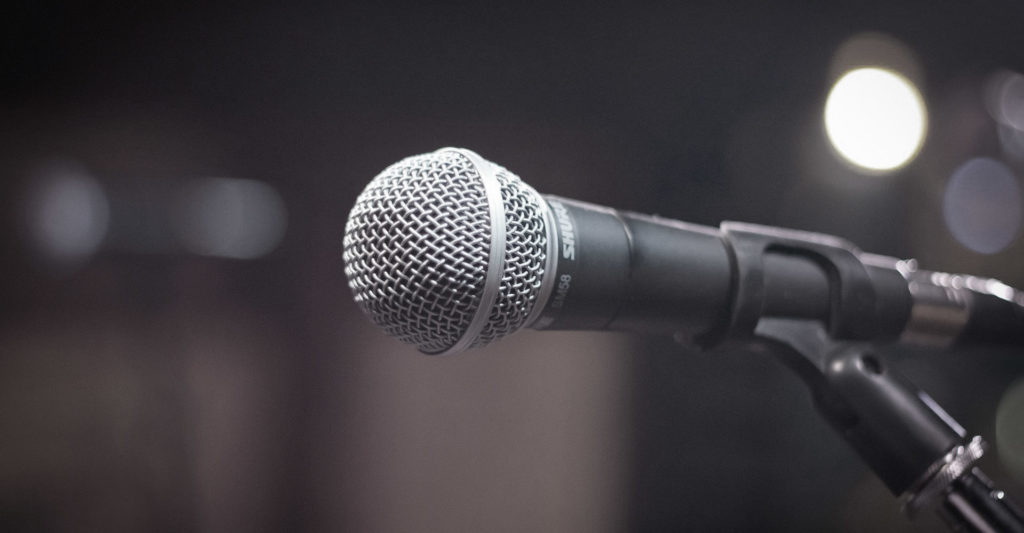 Good build
Built-in windshield
Good vocals
Cheap
Low sensitivity
Shure SM58 is the iconic handheld microphone everyone is familiar with. Made in 1966 it has proven its worth over more than 50 years.
Shure SM58 is a rigid handheld microphone that can withstand a beating. It will endure long trips in a bag and drops on the ground.
The microphone has a frequency response of 50Hz – 15,000Hz and a sensitivity of 1.6 mV/Pa (-56dB). There is a slight dip in the 300Hz-500Hz range, which is great for removing some of the muddiness and adding clarity. The very high-end frequencies are boosted for some brightness and overall, the microphone is great for vocals
Similarly to Rode Procaster, Shure SM58 has a built-in windshield, which protects it from plosives and spit. The microphone is amazing at neglecting handling noise, which is ideal since it is primarily used as an on-stage handheld microphone.
Nevertheless, it is great for vocals and could be used for anything including podcasts, Youtube, music recording, on-stage singing or streaming.
The only drawback I see with Shure SM58 is the low sensitivity of 1.6 mV/Pa (-56dB), which will require you to use a decent interface or a dedicated pre-amp. Again, I would recommend a fethead or cloudlifter if you already own a budget interface.
Despite its low sensitivity, the low cost of $100, durability, great handling, built-in windshield and amazing sound for vocals, in my opinion, make it the best overall choice among cheap dynamic microphones.
If you plan to build your recording setup I highly recommend reading the Complete Guide to Audio Recording Equipment.