K669D is a dynamic XLR microphone from FIFINE, a Chinese brand established in 2009 that primarily focused on creating affordable, entry-level USB microphones with eye-catching designs and lots of features. However, the company started expanding XLR line of microphones in recent years. Consequently, FIFINE K669D was released in 2023 to compete against other budget XLR microphones and is marketed as a podcasting and voice-over microphone.
What's in the box?
In FIFINE K669D box, you'll receive the following:
FIFINE K669D microphone
Tripod stand
Manual
Specifications
| | |
| --- | --- |
| Connection type | XLR |
| Element type | Dynamic |
| Pattern | Cardioid |
| Self-noise | – |
| Frequency response | 50Hz -16,000Hz |
| Sensitivity | 3.2mV/Pa (-50dB±3dB) |
| Weight | 0.7kg (1.54lbs) |
| Max SPL | 120dB SPL |
FIFINE K669D is a dynamic XLR microphone with a cardioid polar pattern, a compact and lightweight build coming at 0.7kg (1.54 lbs).
Frequency response
The microphone has a decent frequency response rate of 50Hz -16,000Hz with super high-end frequencies above 16kHz cut-off. That's perfectly fine for a dynamic microphone, as I would consider removing it in post-production anyway. It's quite unlikely that someone is going to use this microphone in a studio environment where you might want to have these frequencies.
Sensitivity
The best part about this microphone's specs is its sensitivity. If you compared it to other dynamic microphones, you could barely find a microphone with equal or higher sensitivity. At -50dB, FIFINE K669D is one of the most sensitive dynamic microphones in the market and this is very important considering it's a budget microphone that requires a pre-amp.
If you're buying K669D, you probably won't want to invest in powerful pre-amps and a high sensitivity of -50dB allows you to save up and acquire a budget audio interface with integrated pre-amps to pair it with the microphone.
Sound quality
I am pleasantly surprised about FIFINE K669D as it records clean and high-quality audio you wouldn't expect from a $37 microphone. The upper end is slightly boosted and crispy, providing audio reminiscent of broadcast style, while the low end isn't overly emphasized.
This could be a good choice for someone with a very deep voice or if you intend to get close to the microphone and use the proximity effect to your benefit.
The microphone isn't the best at reducing plosives, so a good recording technique or a pop-filter will be required.
Audio test:
Features
If you're looking for a fancy microphone packed with features, FIFINE K669D is not for you as it offers you nothing. And that's expected for a microphone under $50. Personally, I find it a good sign as I would rather have a cheap microphone that focuses on audio quality and cuts costs by reducing features rather than trying to fit as many as possible to use it as a marketing trick.
Keyboard noise rejection
To record keyboard noise, I used the tripod with which the microphone was bundled up and there was no shock mount included. That must have added some additional noise as vibrations easily pass through the table and desktop tripod. Investing in a boom arm and shock-mount might be useful if you plan to use the keyboard simultaneously.
In overall, the microphone didn't do great at rejecting keyboard noise. If you're getting this microphone and intend to use it while gaming, then you might want to pair it with a quieter membrane keyboard. In the test below, I am using a mechanical keyboard which generates a lot of clicking noise.
Background noise rejection test:
Build quality
FIFINE K669D has an all-metal body and grill. The microphone feels sturdy enough to withstand a little bit of beating, although that might be a bit too early to decide. Also, since it's so barebone, there are very few components it can fail at and it makes me happy.
Design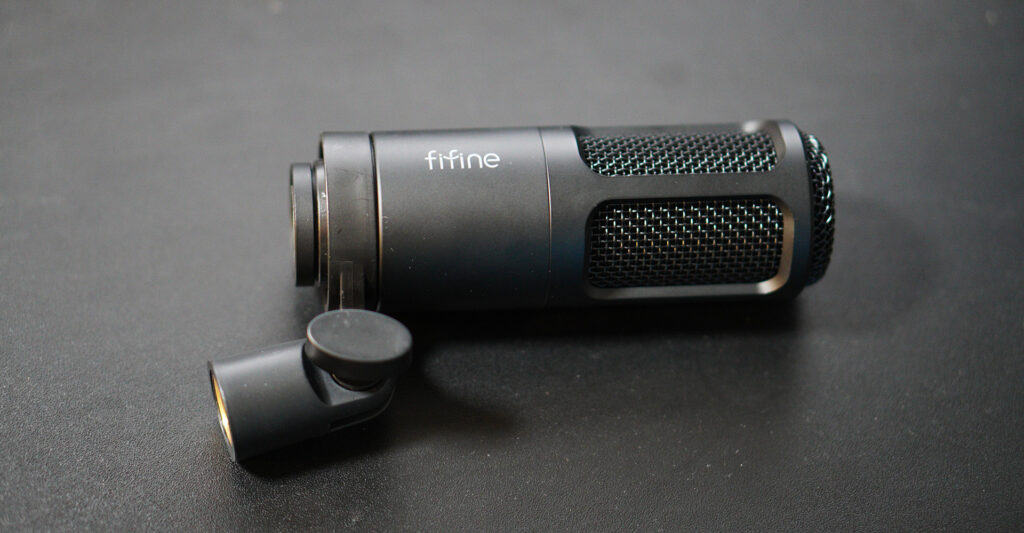 If design is one of the top concerns when choosing the microphone, then FIFINE K669D is probably not for you. It has an industrial look with black coloring and a white logo on it.
Nothing about this microphone feels exciting; compared to other microphones with RGB lighting and colorful designs, K669D looks like it came to the office to do the job without trying to impress anyone about how it looks.
Value
This is certainly one of the best value-for-money microphones. As of now, for $37, you're getting decent quality audio and the microphone comes with a sturdy all-metal body. Also, the sensitivity is so high that you can pair it with a budget audio interface and for a budget dynamic microphone, that's a key.
This microphone might not make you excited, but it's good enough for recording and at this price point, it would be ludicrous to ask for anything more.
Who's it for?
FIFINE K669D is an ideal microphone for someone that wants a cheap dynamic XLR microphone to record podcasts, YouTube content or voice-overs. It might be alright for gaming as well, but keyboard noise problems can get slightly annoying, especially considering there's no shock mount or boom arm included in the package.
Pros and cons
| | |
| --- | --- |
| Pros: | Cons: |
| Low price | Below par microphone stand |
| Good audio quality | No pop-filter |
| Very high sensitivity | No shock-mount |
| All metal body | Sensitive to keyboard noise |
Overview
FIFINE K669D is an entry-level microphone designed for people that don't care about fancy bells and whistles and want good audio quality at an affordable price. This microphone will require an audio interface with a pre-amp and an XLR cable. However, it gives you a basic tripod stand for a quick setup.
While I wish there was a shock-mount and pop-filter included to counter some noise issues you might face with the microphone, I can't fault FIFINE for cutting the costs by giving the bare minimum and focusing on what's the most important – audio quality.
Compared to the similarly priced competition, K669D excels at audio quality, build materials and sensitivity but might lack in features, design and accessories.