Broadcast microphones are designed to be used for broadcasting TV, radio and podcasts, although they are often used for voice-over and music as well. Broadcast microphones usually feature a built-in pop filter, shock-mount resistance and cardioid polar pattern. These features are useful for mitigating handling and background noise and prevent some of the plosives, all of which are very useful when performing live.
Most of the broadcast microphones are dynamic; however, there are some condensers as well. There are plenty of broadcast microphones to choose from but a select few stand out in the market. In this article, we will overview some of the best broadcast microphones currently in the market.
Rode Procaster

Rode Procaster is a professional broadcast microphone with a frequency response of 75Hz – 18,000Hz, a sensitivity of 1.6mV/Pa (-56dB) and a cardioid polar pattern. It's designed to sound warm and bassy for a nice boomy voice. The microphone is very sturdy, with all-metal construction weighing 745g.
Rode Procaster is great at canceling noise in the background making it perfect for recording while using a keyboard or talking with someone else on the podcast.
It's probably the best value microphone in the market, selling for $229 and offering everything you would want from a dynamic broadcast microphone.
The one drawback with Rode Procaster is low sensitivity; if you don't have a good pre-amp, it might be an issue, as low-end audio interfaces might not provide enough clean gain for the microphone. Getting a dedicated pre-amp or a mic activator would be a good idea.
Shure SM7B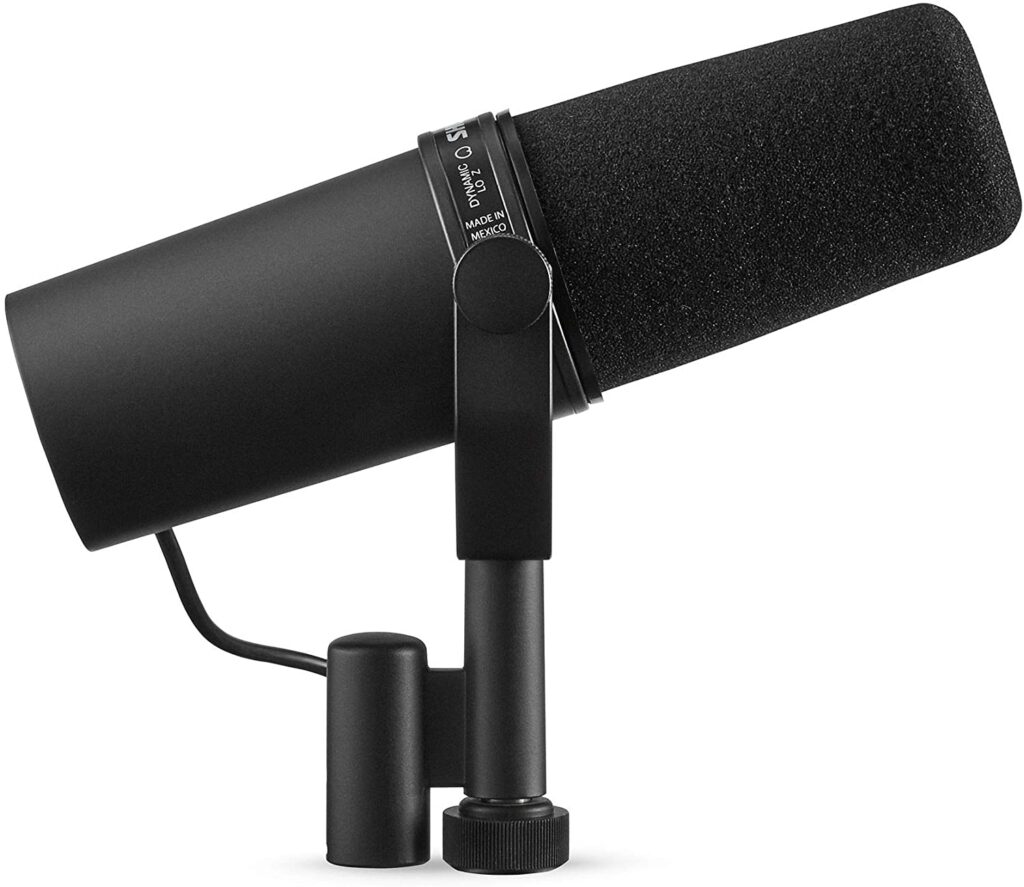 Shure SM7B has become an industry standard for podcasts, it's one of the most popular broadcast microphones used by Joe Rogan, H3, Jordan B Peterson and many more famous podcasters. It has a frequency response of 50Hz – 20,000Hz, a sensitivity of 1.12 mV/Pa (-59dB) and a cardioid polar pattern.
On top of all the features that most broadcast microphones offer Shure SM7B includes a yoke mount, bass roll-off and presence boost settings making it a very versatile microphone for live performances. By default, the microphone sounds quite dark and boomy, which many people like, but you have other options with roll-off and presence boost settings. It also has great off-axis noise cancelation and good looks.
Shure SM7B is probably the best all-around microphone. If you plan to use it for broadcasting it's great, but then you can also use it for music as well; it's a very versatile mic suitable for almost everything.
Selling at $399 is a bit pricey, but it is still great value considering all the features and sound quality it offers. Also, it's even less sensitive than Procaster so you would definitely need to invest in a good pre-amp or an activator such as fethead or cloudlifter which would cost around $100 more.
Electro-Voice RE20

Electro-Voice RE20 is an iconic microphone created in 1968 and popular among announcers. It has a frequency response of 45Hz – 18,000Hz, a sensitivity of 1.5mV/Pa (-56.5dB), a wide cardioid polar pattern and it's built like a rock.
EV RE20 has rolled off low-end frequencies and offers a high-pass filter option, which cuts even more of the low-end frequencies.
In comparison, many broadcast microphones enhance low-end, RE20 went another route. This gives RE20 more clarity compared to other broadcast microphones and makes it much less prone to the proximity effect which allows getting very close to it without enhancing low-end frequencies.
Similarly to other microphones in this list, a low sensitivity might be an issue and you might require a mic activator with this microphone, but this is an issue that many dynamic microphones face; broadcast microphones aren't an exception in this regard.
RE20 is pricey at $450, but has a unique approach for a broadcast microphone which could make it a tempting microphone to buy.
Neumann BCM 705
Neumann BCM 705 is the most premium broadcast microphone on this list selling at $700. It has a frequency response of 20Hz – 20,000Hz, a sensitivity of 1.7mV/Pa (-55dB), a hypercardioid polar pattern and a sturdy all-metal build.
BCM 705 rolls off a few low-end frequencies and applies a presence boost, making it perfect for clarity. It's probably the most articulate and clear microphone on this list and has a very clear high-end frequency response.
The low-end roll-off means you'll have to get close to the microphone. Otherwise, it might make your voice sound a bit thin. BCM 705 similarly to RE20 mitigates the proximity effect that allows it to get very close to the microphone and increases the input. It's very useful when limiting background noise since your vocal will be much more audible than background noise.
In addition, a hypercardioid pattern gives BCM 705 the best off-axis noise cancelation, making it perfect for podcasting with multiple people.
Neumann BCM 705 is the most sensitive broadcast microphone in this list and speaking close to it might make it usable without needing mic activators, although it still could benefit from them.
The biggest drawback of this microphone is the price as it's significantly more expensive than others on this list.
Rode Podmic
Rode Podmic is the cheapest microphone on this list selling at $100. It has a frequency response of 20Hz – 20,000Hz although looking at its frequency response graph it has a huge dip in the high-end frequencies above 12,000Hz. Its sensitivity is 1.7mV/Pa (-56dB) and the microphone is all metal with a cardioid polar pattern.
Rode Podmic has enhanced lows, scooped out low-mids for clarity, a bit of a presence boost at around 1kHz and a dip at 7kHz, which allows controlling sibilance. The microphone best suits the spoken word and is great for podcasting or radio. It also includes a yoke mount so that could save you even more money since you won't need to buy a mic holder or a shock mount.
Similar to other broadcast microphones it's not very sensitive and would benefit from a mic activator. However, the biggest advantage of this microphone is the price. While it's not the fanciest broadcast microphone on the list, it's significantly cheaper than the rest. This could be a perfect broadcast microphone for starting out a podcast and you can get a bunch of these for the price of one of the other microphones on this list.
You can find more information about various microphones in this article.